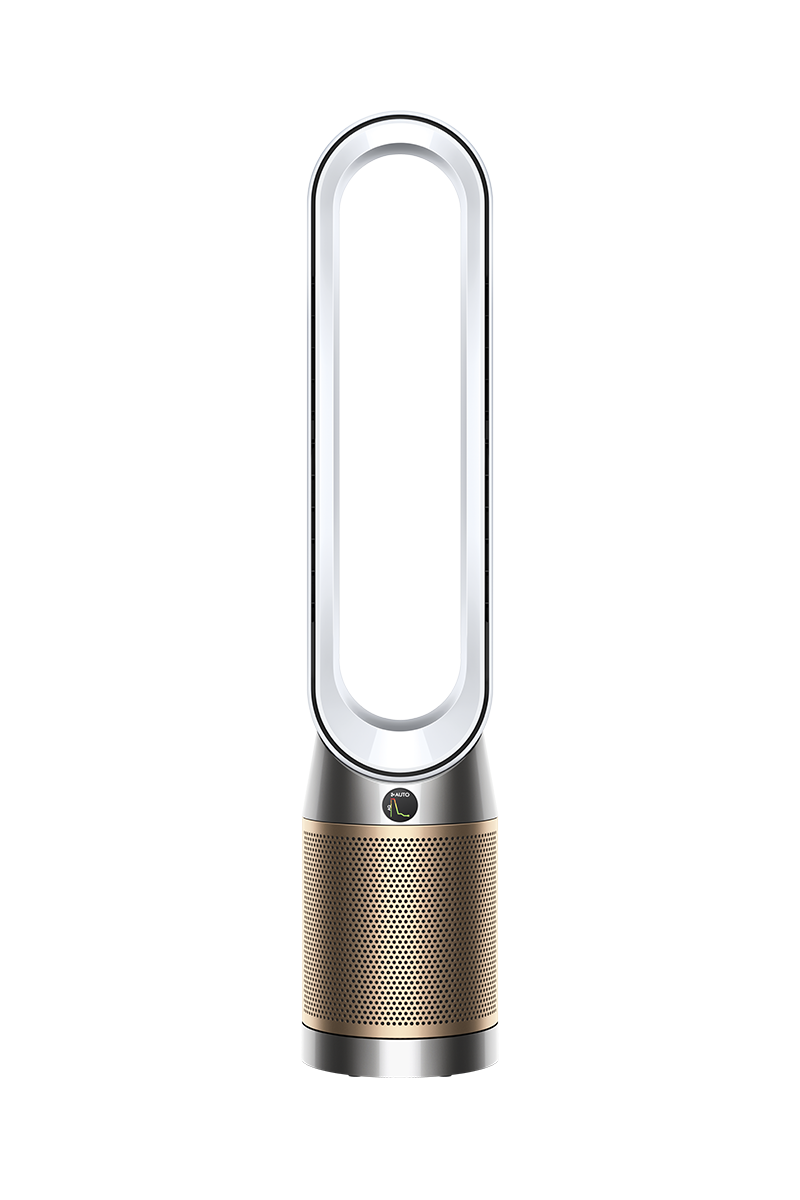 Dyson purifier cool formaldehyde TP09
Was

₪2,999.00
₪2,563.00
Save

₪436.00
Our latest purifier detects and destroys formaldehyde, continuously

It combines a precise solid-state formaldehyde sensor with a unique catalytic filter that continuously destroys formaldehyde. HEPA H13 and activated carbon filters also capture dust, allergens, gases3 and other ultrafine pollutants. And Dyson purifiers have powerful Air Multiplier™ technology to purify the whole room.4

Technology
Senses and reports, automatically

Integrated sensors constantly analyse your air, while our unique algorithm cross-checks data every second. It diagnoses pollutants at a molecular level, displaying live results on the LCD.

Captures gases and ultrafine particles

The HEPA H13 filter captures 99.95% of particles as small as 0.1 microns.2 A layer of activated carbon also removes odours and gases including VOCs3.

Destroys formaldehyde, continuously

The Dyson catalytic filter continuously traps and breaks down formaldehyde1 molecules into water and CO2. And it never needs replacing.

Purifies the whole room

Dyson purifiers have Air Multiplier™ technology. It generates the circulation power to draw even distant pollutants into the machine, projecting purified air throughout the room.4

Fully sealed to HEPA H13

In our latest purifiers, it's not just the filter that meets HEPA H13 standard, it's the whole machine5. So what goes inside, stays inside.

Precisely detects formaldehyde

Our latest purifiers use a solid-state sensor to detect formaldehyde molecules – 500 times smaller than 0.1 microns. Maintains precision for the lifetime of the machine.
Features
Cools you in summer

In warmer weather, a powerful stream of purified airflow can cool you down.

Diffused mode

Diverts airflow through the back of the machine. To purify, without cooling you.

Now 20% quieter

Acoustically engineered to reduce turbulence, so it's 20% quieter than the previous model.

App control

Control and monitor your air quality from anywhere using the Dyson Link app.6

Oscillates up to 350 ̊

Adjustable oscillation projects purified air around the whole room.

Voice control

Control it hands-free with compatible voice services.7

Night mode

For lighter sleepers. Monitors and purifies using the quietest settings, along with a dimmed display.

Easy filter care

The filter is quick and easy to change. With automatic filter-life notifications on the LCD or Dyson Link app.6

Remote

Curved and magnetised to store neatly on top of the machine.
Specifications
Weight
4.86kg

---

Height
1050 mm

---

Cord length
1.8m

---
Frequently asked questions
The combination filter needs to be changed after 12 months, based on 12 hours' use a day.
Yes. Your Dyson purifier filter is guaranteed against original defects in materials and workmanship for a period of 12 months from the date of purchase. Filter units that must be replaced because the filter life has expired are not covered by the warranty.
If you're concerned by the brightness of your purifying fan heater's LCD display, consider enabling Night-time mode using your remote control or the Dyson Link app. During operation, a small moon icon indicates that your purifier is on, but the main display turns off after 10 seconds to help avoid sleep disturbance.
If auto mode is enabled, AUTO will be illuminated on your purifying fan's LCD display. When your machine is purifying the air, AUTO will be in white. When the air in the room is purified, it will turn green and your purifying fan will remain idle until pollutant levels rise.
Your purifying fan's auto mode is designed to manage the air quality in your home without you having to operate the machine – so it's only on when it needs to be. If you or someone in your home suffer from allergies or respiratory illnesses, we particularly recommend using your machine's auto mode.
Your purifying fan is engineered to purify single rooms, so you should use it where you spend the majority of your time at home. When placing the machine, make sure there is at least a few feet of clearance on all sides so that the air can circulate effectively.
Your purifying fan heater works most efficiently in a sealed environment – opening the windows can allow more pollutants to enter the air in your home, which means your machine will take longer to work.
Increasing airflow will create a cooling effect using purified air, so you may find it beneficial to change your purifier fan's speed settings as the temperature changes. For personal cooling in summer, use settings 4-10. In colder periods, enable diffused mode. It projects air through the back of the machine, to avoid unwanted cooling.
HEPA H13 purifier and fan
Detects and destroys formaldehyde. Automatically senses and displays real-time air quality
Whole-room purification for larger spaces
Control using the Dyson Link app
Was

₪2,999.00
₪2,563.00
Save

₪436.00
הטכנולוגיה המתקדמת ביותר
מחמם בחורף. מקרר בקיץ
לוכד אבק ואלרגנים
אפילו משמיד פורמלהיד
לוכד 99.95% מהחלקיקים, אפילו בגודל של 0.1 מיקרון
תקריב של צג טלפון נייד עם אפליקציית Dyson Link
פילטר HEPA אטום בעל טווח תנועה של °‏360

פילטר HEPA אטום בעל טווח תנועה של °‏360 אשר לוכדים גזים ו 99.97% מן החלקקים העדימים ביותר כולל אלרגנים עד לגודל של 0.3 מיקרון.

שלט רחוק

שלט עם מגנט לאחסון נוח
Was

₪3,360.00
₪2,872.00
Save

₪488.00