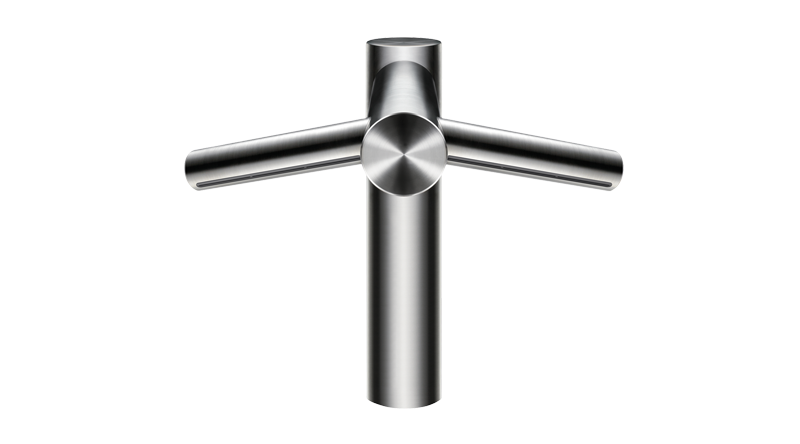 Dyson Airblade Wash+Dry Tall hand dryer
Airblade™ hand drying technology in a tap
Hygienic performance with HEPA filter
76% less expensive to run than other hand dryers2
Additional Features
Have cleaner washrooms

With Airblade™ technology in a tap, there's no need for users to move to a separate drying area, so no water is dripped on the floor. And with the space saving Dyson Airblade Wash+Dry hand dryer, there's room for extra toilet cubicles and other facilities.

Dry hands. In just 14 seconds

The Dyson Airblade Wash+Dry hand dryer takes just 14 seconds1 to dry hands. So users spend less time in your washrooms, making busy times easier to manage.

Less waste

Up to 76% less expensive to run than other hand dryers.2 Up to 98% less than single-use paper towels, with up to 85% less CO2. Creating a better environment in your washrooms and in the world outside.
Specifications
HEPA filter
HEPA filter as standard

---

Motor
Dyson digital motor - V4 brushless DC motor

---

Exterior screw type
Torx T15

---

Input voltage
200-240v

---

Rated power
1,000w

---

Operation lock-out period
30 seconds

---

Operating airflow
21 l/s

---

Frequency
50-60hz

---

Dry time
14 seconds1

---

Motor switching rate
5,400 per second

---

Decibel level
81dB

---

Bacteria removal
Captures 99.95% of particles the size of bacteria

---

Motor speed
Up to 81,000rpm

---

Standby power consumption
Less than 0.5w

---

Height
309mm

---

Length
286mm

---

Width
303mm

---
14 second dry time
Hygienic performance with HEPA filter
76% less expensive to run than other hand dryers
5 year guarantee
14 second dry time
Hygienic performance with HEPA filter
76% less expensive to run than other hand dryers
5 year guarantee
14 second dry time
Hygienic performance with HEPA filter
76% less expensive to run than other hand dryers
5 year guarantee
1 Dry time determined using Dyson test method 769 based on NSF P335 using a measurement of 0.1g residual moisture.
2 Average electricity price US$0.1/kWh as of December 2018. For calculations visit www.dyson.co.il/calcs